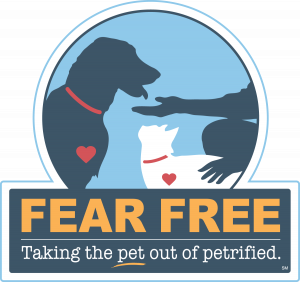 You may have already heard the buzz about "Fear Free" via television, radio, print or social media thanks to "America's Veterinarian", Dr. Marty Becker.  Or maybe you have heard about it through a friend, family member, coworker.  Maybe, you heard or read about it the first time through us.  After all, we were the very first practice in this area to have Fear Free Certified Professionals on staff.
And you may be hearing lots of catchy phrases like "Taking the pet out of petrified", "Taking the scare out of care" or "Putting the treat in treatment".  You may think that all sounds great, while wondering at the same time, what does it really mean?
Fear Free means that we realize that your pet's emotional health is just as important as their physical health.  It is our goal to minimize fear, anxiety and stress for every patient that we interact with.  Our team members who have embraced Fear Free take a pledge to hold each pet's emotional and physical wellbeing in mind at all times, to learn to recognize even subtle signs of fear, anxiety and stress (FAS) and use the skills that we have learned in our Fear Free courses to do our best to minimize and relieve that FAS.  We commit to continue to educate ourselves in Fear Free techniques and research related to the intimate relationship between pets' emotional wellbeing and their physical wellbeing.
We understand that Fear Free is a whole-life approach to pet care and want to encourage our colleagues, pets' families, groomers, trainers, pet sitters, rescues, shelters – anyone and everyone that works with, lives with and loves pets – to embrace Fear Free as well so we can give all pets everywhere the best quality of life possible and help alleviate fear, anxiety and stress and increase that beautiful human-animal bond.
Our pets are our family.  Your pets are our family too!  When you visit us, ask for our Fear Free Certified Professionals.  Learn more about how you can implement Fear Free in your pet's life right now by visiting www.FearFreeHappyHomes.com  We're pretty sure you will be happy you did 🙂