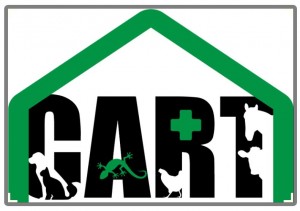 There are a multitude of potential disasters and emergencies that our state is susceptible to that may impact our animals.  Inclement weather, flooding, hurricanes, terroristic attacks…  Being prepared to respond to these events requires planning and training by the emergency response community throughout the state.
Your County Animal Response Team (CART) is a group of trained volunteers organized under the County Office of Emergency Management based on the National Incident Management System guidelines developed by the Federal Emergency Management Agency (FEMA).  This Team coordinates and trains with other emergency response groups to provide an effective, fluent disaster response.
We are very fortunate in Middlesex County to have our very own County Animal Response Team (CART).  In an emergency or disaster response situation, CART facilitates care and temporary housing for the county's animals.  Most County Animal Response Teams have a CART Director, CART Veterinarian, CART Animal Control Officer and CART Staffing/Resource Coordinator.  Each of these divisions have appropriate support staff and maintain close communication with the other emergency response entities.   Middlesex County's CART Veterinarian is our very own Dr. Joseph Chiosi!  Dr. Chiosi works very closely with his fellow CART colleagues attending meetings, continuing education, providing training, etc. to help insure safety and preparedness for our community's animals when the need arises.
Being prepared is the key to providing the best care – our pets are counting on us!
If you want learn more about animal emergency response, CART or are interested in becoming a volunteer, please visit www.animalemergency.nj.gov