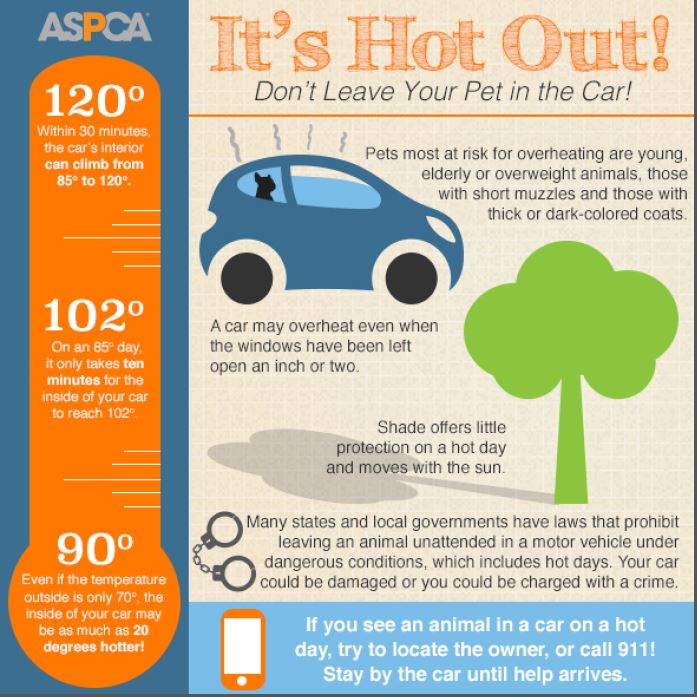 With summer upon us, and the high temperatures we've been experiencing in our area on many days, we thought it important to share the very important info graphic above courtesy of the ASPCA.
Many of us love to bring our pets with us wherever we go, and our pets love to accompany us on our adventures; running errands, a quick drive to pick up/drop off the kids, the drive-thru, family outings, etc.  Any time of year, it's fun to have our pets with us.  But in the summer time, or any time the temperatures are on the warmer side, it's so important to not leave your pet in the car unattended.
Our pets are unable to dissipate heat efficiently – they do not sweat like we do.  They can very quickly become overheated which can cause shock, organ damage and even death.  Even with the windows cracked open, temperatures may rise by twenty degrees in just ten minutes, thirty degrees in twenty minutes and almost forty degrees in a half hour!   Leaving the car running with your pet inside comes with the risk of possible engine stalling, or air conditioning failure.
We love our animal family members so much!  Let's not risk exposing them to irreversible, life threatening heat.   Stay cool and please don't leave your pet in an unattended vehicle.